Consistently creating awesome social media content isn't an easy task.

In this blog post, you'll learn 5 techniques to find new content ideas for your social media content calendar.
Value Proposition Canvas
Let's first take a step back to look at the foundations of your social media presence. This will help you to find the state of mind necessary to create new content.
Which problems does my service or product solve? Who is my ideal customer?
We'll use the Value Proposition Canvas to visualize clearly for whom our social media presence exists in the first place.
Start by downloading and printing the template to fill in the different parts of the canvas.

On the right-hand side of the canvas, we'll talk about the customer's perspective.
Gains: what makes them extremely happy? What does success mean for your client?
Pains: what are some of your client's main frustrations and fears? What really keeps him or her awake at night?
On the left-hand side, we'll talk about how our products and services can help the customer.
Gain Creators: how does your product or service evoke a 'WOW' from your customers?

Pain Relievers: what are some small things that our product does well to reduce or eliminate fears and frustrations?

Product/Services: a list of your product and services
You can keep this canvas by your side to stay in the head of your customer while working on your social media content.
Check which questions your (potential) clients are asking on Twitter and Quora
A very effective way to find new content ideas is to look for questions your clients are posting on platforms like Twitter and Quora.
You'll become their hero by answering those questions in your social media posts.
Put in your product keywords in Twitter's Search.
To only search for questions, simply add a question mark to your query.

For further examples in this article, we'll use Nike shoes as our product.
One of the first results I'm getting for 'nike shoes ?' could become an awesome post about Nike trial running shoes:
Tip: If you want to focus on customer frustrations only, then also add a 🙁 smiley to your query.
Another popular platform to find questions is Quora.
Do some searching for your main keywords and competitor's brand names to find quick inspiration.

Even better: find a question that went unanswered. A real chance for your social media post to create some genuine value!
Facebook Audience Insights
Audience Insights is a free tool by Facebook, mainly used by advertisers.
It can provide you with clues into what type of content your audience likes and some fresh inspiration for your social content calendar.
Open Audience Insights. If you already have a Facebook page you can select 'People connected to your page'. (you have to be logged in on Facebook to open audience insights)
This will only work if you have several thousands of fans because Facebook needs enough data to create the profile.
If you don't have enough Facebook fans, you can select 'Everyone on Facebook'.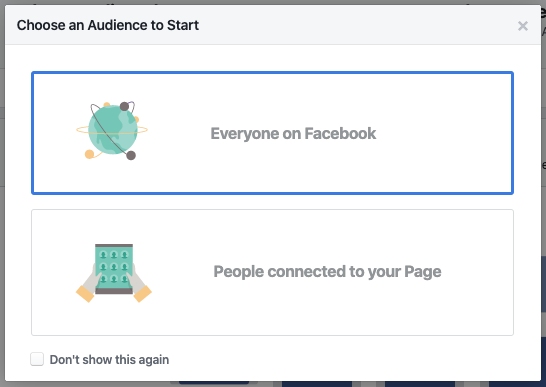 In the left-side menu, you can now filter to get as close as possible to your product's audience.

The best way to do this is by adding some interests. I'll add 'Nike Air Max' to find people interested in Nike shoes.
Now click 'Page Likes' and scroll down to see which pages are most liked by your selected audience.

Go through this list and visit page by page, you'll quickly get inspired if you can understand which type of content your ideal customer is already liking today.
Monitoring hashtags with Tweetdeck
Another way I get inspiration for my content calendar is through monitoring different product-related hashtags.
It's really a constant flow of inspiration for your social media content because those feeds will give you instant insight into what your audience is talking about today.
First, we'll spin up a tool like HashtagsForLikes to find tons of product-related hashtags.
Let's monitor the most relevant hashtags with TweetDeck, a free tool by Twitter.
Log in with your Twitter-account and click the 'Add Column'-button.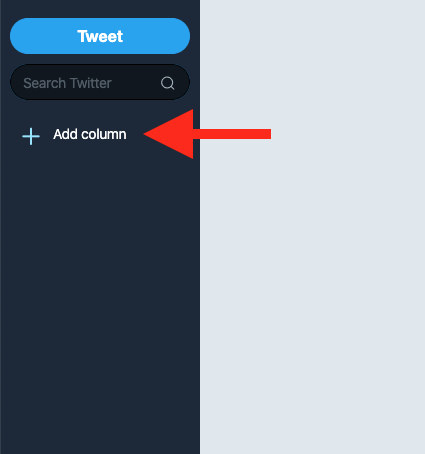 Then select 'Search'
Fill in your first hashtag in the search bar.
You'll find that there are lots of ways can filter these results.
For example, filtering by country and language can come in handy.
Tip: if you're getting lots of spammy results, try to set the engagement to at least 5 likes. This way you only get content that already has some traction.
Now just repeat the process for your other hashtags by clicking the 'Add column' button.
The end result is a neat overview that should get your creative juices flowing.
Ask your clients
In the end, you're creating content for your (potential) customers, right?
So why not just ask them which type of social media content they would like to see from your brand.
These questions are a great starting point:
What is the most important question you have about [your product]?
What subjects would you love to learn more about relating to [your product category]
Is there something else you would like to tell us about your experience with [your product]?
You can use Google Forms to quickly create a free form to send to your clients.
Click 'Start a new form'
Pick a title for your form and change the first question type from 'multiple choice' to 'paragraph'. (we want to get qualitative results for this)
Setup your other questions by clicking on the + button on the right-side floating menu.
Click Send in the top-right menu to email this form to some of your customers.
Conclusion
Coming up with fresh content ideas every week for your social media calendar can seem like a daunting task.
Hopefully, these techniques can help you to understand your particular audience a little bit better and generate new ideas for content your customers will love.
Do you have any special techniques to get your creative juices flowing?

Share them in the comments section below and I'll be happy to add them to this article.